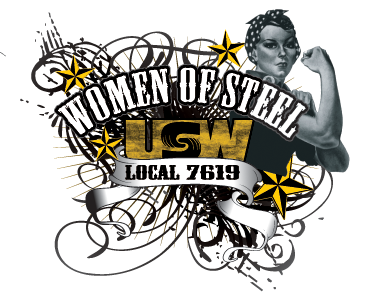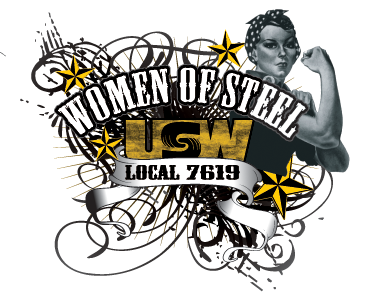 WOMEN OF STEEL LOCAL 7619
A FORCE FOR POSTIVE CHANGE AT WORK, IN THE COMMUNITY, AND AT HOME.
___________________________________________________
WOMEN OF STEEL HISTORY AND BACKGROUND
Women of steel is an activist-arm of the USW that evolved from the early women's caucuses that demanded that women have their rightful place in our union.  Originally, WOS was designed as a Leadership Course for union sisters to learn how the union works and is still offered in each district annually, but now, the USW Constitution requires that each local union with female members establish a Local Union Women's Committee.  All female members of the USW are considered Women of Steel regardless of their union-position or the industry or service they work in, some are activists, and some serve on their local's Women's Committee.
WHO WE ARE AND WHAT WE DO

The Women Of Steel (WOS) is a group of dedicated volunteer women who are "a force for positive change at work, the community, and at home". We strive to provide support to our female members at Highland Valley Copper Mine for better working conditions, safer workplace, and workers' rights as per our CBA. In addition to supporting our Union Brothers and Sisters locally, nationally and internationally with political campaigns, we also work tirelessly throughout the year to support community initiatives and causes that enrich our families and help those in need.
Our  workplace issues, projects, training, and activities vary every year, but here are some of the ones we have worked on in the past and currently:
– Workplace issues that affect our members at Highland Valley Copper Mine in areas of Health and Safety, human rights, etc.
– From The Heart campaign fundraising for children and women in need through the ASK Wellness Center in Kamloops and Merritt areas.
– United Way campaign support
– Breast Cancer fundraising for the Royal Inland Hospital Mammogram screening clinic
– International Women's Day events in our communities and at Highland Valley Copper Mine to raise awareness on domestic violence
– Political action activities supporting issues that affect workers and communities locally and nationally.
– Local, International, and National Women Of Steel conferences and trainings provided by the Local, District3 and USW international.
WANT TO KNOW MORE ABOUT THE WOMEN OF STEEL?
The WOS 7619 committee is always open to new members who desire to learn more about the union, our WOS movement and how they can help make a change for the better in our workplace and communities. You can contact the WOS committee Chair or the Union Hall at 250-828-2860 for more information on meetings dates and times, our next training, questions you may have about the committee, how to volunteer for WOS activities, new ideas you may have in mind for the WOS committee, please contact our Union Hall at 250-828-2860.
___________________________________________________
.