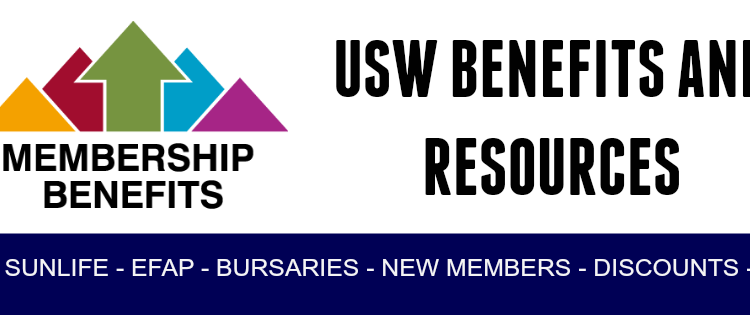 MEMBERSHIP BENEFITS AND OTHER RESOURCES
Local 7619 members have access to full benefits under our collective agreement through Sunlife Financial and Shepell-fgi Services. In addition to these benefits, your Local Union provides you with additional benefits by being a part of the Steelworkers organization, such as the ones below. For more information in addition to the one in this website, please contact the Union Hall at 250-828-2860.
_____________________________________
NEW MEMBER HANDBOOK – A Resourceful Guide for Members at HVC
Our Local Union has created this handbook for new members and all members who need a quick view of our resources and benefits, as well as their rights under our CBA.
To view the most recent handbook, please contact the Union hall.
For more information on your local union services and benefits, please contact the Union Hall at 250-828-2860.
_____________________________________
WCB And SUN LIFE DISABILITY CLAIMS – Information  for Injured Workers.
If you have an injury or illness from work that prevents you from working your regular duties, see information on how to file a WCB claim or a Short term Sun Life Disability claim.
_____________________________________

DISCOUNT BOOKLET
Members of USW7619 are eligible to certain discounts and special offers from different vendors in Kamloops, Logan Lake, Merritt and other areas.
for any discounts or special offers in other areas, always let them know you are a Steelworkers and ask if they offer any discounts for USW.
_____________________________________
SUNLIFE MEMBERSHIP BENEFITS- Health and Wellness Benefits Negotiated Under Our CBA
Our Local Union negotiated a benefits package as part of our CBA for health care and dental benefits coverage, as well as other coverage. Below are the benefit booklets links for active members and retired members.
To View the most recent benefits handbook for ACTIVE members
please CLICK HERE
To view the most recent benefits handbook for members RETIRED BEFORE October 01, 2011
please CLICK HERE
To view the most recent benefits handbook for members RETIRED ON OR AFTER October 01, 2011
please CLICK HERE
_____________________________________
EMPLOYEE AND FAMILY ASSISTANCE PROGRAM (EFAP) – Provided by  SHEPELL-FGI Services for Active Members
Our Employee and Family Assistance Program is provided by Shepell·fgi. In addition to providing confidential and professional counseling services for all of union members and their immediate family members, Shepell-fgi also offers a series of Work Life services, which include consultations with lawyers, financial experts, child / eldercare services, and a nutritional support service.
 The highly trained and experienced counselors at Shepell·fgi will be able to assist you or a family member across a broad range of personal and work-related problem areas including, but not limited to, marital and family problems, child-related concerns, alcohol / drug misuse, emotional difficulties, vocational / career-related concerns and financial / legal worries.
The counseling service, which is available off-site and on a 24 hour basis, can be accessed by calling:
1 – 800-387-4765
In addition, the online resource library, which is an enhanced feature of the Employee Assistance Program can be accessed at :
For a complete list of counselors in these locations see EFAP posters located on bulletin boards around the mine.
_____________________________________

USW BENEFITS TO ACTIVE AND RETIRED MEMBERS
NEW BABY GIFT – Flowers are sent to an Active member's spouse – You can chose flowers or a fruit basket.  A baby gift is sent to the baby once they are home.
HOSPITAL TV RENTAL – An active or retired member who is sick at the hospital, can rent a TV during their stay in the hospital and the union will reimburse you for the TV rental expenses.  To be reimbursed, please send the hospital TV rental receipt to the Union Hall for reimbursement.
UNION ASSISTANCE PLAN – When an Active member of the local passes away, their beneficiary is entitled to $2,500 to be issued as soon as possible.  Contact would be made through the union office to the beneficiary listed in our Union records. Death Benefits apply only to members currently employed , not retired or past members.
RETIRED MEMBER GIFT – When a member retires from work at Highland Valley Copper mine, the Local Union provides him or her with the gift of $250 plus a free one year membership to the Steelworkers Organization of Active Retirees (SOAR) Chapter 25, as well as a standing invitation to our annual Retirees BBQ held at Logan Lake the first Thursday in June.
_____________________________________

USW 7619 BURSARIES AND SCHOLARSHIPS 
FOR RECENT HIGH SCHOOL GRADUATES, MINOR SPORTS TEAMS, AND INTERNSHIPS – The United Steelworkers Local 7619 offers four (4) bursaries for $500 each to Grade 12 graduating students who are the children/wards of the members of Local 7619. Two bursaries will be awarded to students enrolled in Trades training and two bursaries will be awarded to students enrolled in Academic training. Students must be enrolled in a post secondary educational institution in their year of graduation. Bursaries are dispensed of in September or January. Grades are not the main criteria for these Bursaries – personal achievement and community involvement are given equal weight.
For an application form to our Local 7619 Post Secondary bursaries
(

Deadline MAY 15, 2022

) , CLICK HERE


For an application form to our Local 7619 Minor Sports bursaries,

Deadline April 30th, 2022

, CLICK HERE

For more information, contact the Union Office at 250-828-2860.
_____________________________________

UNITED STEELWORKERS NATIONAL BURSARIES AND SCHOLARSHIPS
The Steelworkers Organization offers several scholarships for members and their children. Please see links below for more information on these scholarships.
 To Download application and requirements for all USW  National Office scholarships, CLICK HERE
To Download application and requirements for all USW  District 3 scholarships, CLICK HERE
---