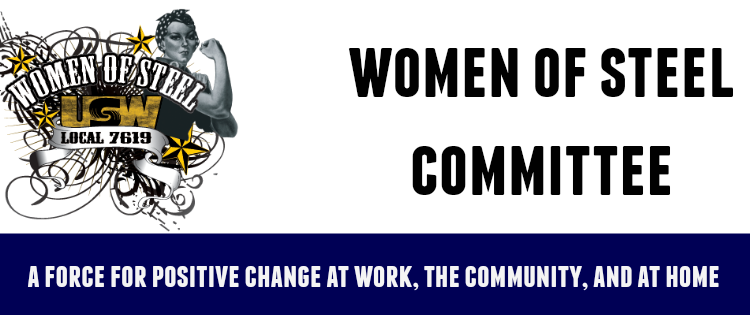 Women of Steel
The United Steelworkers are committed to equality. We believe unions need women and women need unions. We have strong policies against harassment in the workplace, bargain for pay equity and offer training and leadership development to our women members. All women who are members of the Union are considered Women of Steel.
usw7619 WOMEN OF STEEL COMMITTEE
Our Local7619 WOS Committee is an group of activist working for the rights of women's rights at work and their safety in the workplace, as well as supporting the community as a whole with yearly projects and campaigns. If you are interested in being a part of the committee, or learning about the next trainings, events, etc. please contact the WOS Chair or the Union Hall at 250-828-2860 for more information.
To View The Most Recent WOS Committee List, CLICK HERE
WOMEN OF STEEL HISTORY AND BACKGROUND
Women of steel is an activist-arm of the USW that evolved from the early women's caucuses that demanded that women have their rightful place in our union.  Originally, WOS was designed as a Leadership Course for union sisters to learn how the union works and is still offered in each district annually, but now, the USW Constitution requires that each local union with female members establish a Local Union Women's Committee.  All female members of the USW are considered Women of Steel regardless of their union-position or the industry or service they work in, some are activists, and some serve on their local's Women's Committee.
---