Notice
: Undefined index: margin_above in
/var/www/wp-content/plugins/ultimate-social-media-icons/libs/controllers/sfsiocns_OnPosts.php
on line
439
Notice
: Undefined index: margin_below in
/var/www/wp-content/plugins/ultimate-social-media-icons/libs/controllers/sfsiocns_OnPosts.php
on line
440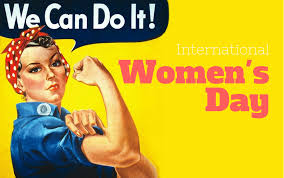 USW Marks International Women's Day, Affirms Commitment to Equal Rights
(Pittsburgh, PA) – The following statement was released today by United Steelworkers (USW) International President Leo W. Gerard in recognition of International Women's Day:
"The USW is proud to honor International Women's Day and the generations of women who fought for social and economic justice throughout the world.
"It should go without saying in 2017 that women deserve dignity and respect in the workplace, that they are entitled to equal pay for equal work, that access to affordable health care is a right rather than a privilege, and that all people are entitled to bodily autonomy.
"Yet, too often women's labor is still viewed as secondary to men's, and women's contributions continue to be overlooked. The wage gap persists, and Republicans in Washington and in statehouses across the country continue to repudiate common sense measures that would help guarantee workplace fairness.
"These attacks on minimum wage, health care, education, pay equality and other vital issues, while threatening all workers, disproportionately hurt women, just as public rhetoric, even coming from the highest reaches of our government, continues to demean, belittle and objectify women.
"As union members, we realize that there is no justice until there is justice for all.
"This International Women's Day, the USW is redoubling its commitment not only to commemorating the brave women who came before us, but to fighting for true equality both in and outside the workplace."
The USW represents 850,000 workers in North America employed in many industries that include metals, rubber, chemicals, paper, oil refining and the service and public sectors.  For more information: http://www.usw.org/.
###
FOR IMMEDIATE RELEASE: March 8, 2017
CONTACT: Jess Kamm Broomell (412) 562-2446, jkamm@usw.org