Notice
: Undefined index: margin_above in
/var/www/wp-content/plugins/ultimate-social-media-icons/libs/controllers/sfsiocns_OnPosts.php
on line
439
Notice
: Undefined index: margin_below in
/var/www/wp-content/plugins/ultimate-social-media-icons/libs/controllers/sfsiocns_OnPosts.php
on line
440
WHAT DID NOT HAVE TO BE
The BC Sawmill Tragedies
By Carole Pearson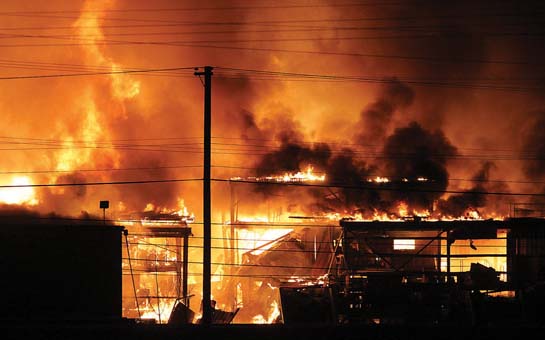 On April 23, 2012, the Lakeland Mills sawmill exploded, killing two workers and injuring 22. PHOTOGRAPH: COURTESY THE PRINCE GEORGE CITIZEN (BRENT BRAATEN)
Now you and I know that the things that aren't code
could be fixed with relative ease.
But we never did get anything by asking on our knees.
So now we're looking you straight in the eye.
Shoulder to shoulder and side by side.
We're saying we just come to work here . . .
we don't come to die.
We're saying we just come to work here MISTER!
We don't come to die.
— Harry Stamper
Google "mill fires in British Columbia" and the frequency with which fires plague the province's lumber industry comes to light. Of the numerous reports of fires in mills on Vancouver Island, in the Fraser Valley and in the BC Interior, two feature most prominently: the 2012 fiery explosions of the Babine Forest Products mill in Burns Lake and the Lakeland Mills sawmill in Prince George. Two men died in each blast; more than 40 workers were injured. And people are demanding to know why.
"It was a war zone," says Lakeland Mills worker Bruce Germyn, recalling the night of April 23, 2012, when the mill exploded and an inferno erupted, sweeping through the site. What Germyn remembers is the chaos of fire and smoke, sirens, emergency personnel, and workers who had survived but were suffering from horrible burns and smoke inhalation, crying out for help.
WorkSafeBC's report of its investigation describes the mill's northern baghouse erupting in flames and lunchroom walls collapsing on workers, while others were "blown through the south wall by the force of the explosion." The entire mill caught fire and was destroyed. Two workers died; 22 were injured.
The investigating officer found the accident could have been prevented. "Preventing a wood dust explosion involves removing one of the five components that need to be available for the explosion to occur: oxygen, containment, dust as fuel, dispersion of dust, and ignition. Oxygen is in the air but the other four components can be controlled."
That was the problem. Contrary to safety regulations, highly combustible wood dust had not been controlled.
WORKERS WARNED SUPERVISORS
Just three months prior, on January 20, 2012, a similar blast had levelled the Babine Forest Products mill near Burns Lake, BC, a few hundred kilometres west of Prince George. A spark from a broken fan ignited the wood dust, setting off an explosion and fire.
.