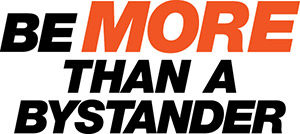 "Be More Than A Bystander" Training Already Making An Impression.
It seems that every time you open a newspaper or turn on the six o'clock news these days, you're surrounded by bad news. Whether it's the chaotic sideshow of American politics or the latest political scandal here at home, it can make you deeply cynical about the state of our world. That's why it's even more important to celebrate the stories that make us proud.
One such story recently appeared on the website of the Canadian Football League's Winnipeg Blue Bombers, and there's a USW connection.
Rob Desnomie is a Steelworker from Regina who works at Evraz Steel and is a member of local 5890. Desnomie recently had the opportunity to attend the first run of USW District 3's "Be More Than A Bystander" training held in Harrison, BC.
Along with 15 other USW brothers, Desnomie went through an intensive 4 day session to prepare to become a spokesman for the "Be More Than A Bystander; Breaking The Silence On Gender Based Violence". The training is led by Tracy Porteus from Ending Violence Association of BC and is a partnership between EVABC and USW District 3.
Supporting the training were four CFL players: JR Larose, Angus Reid and Jamie Taras of the BC Lions, and Matthias Goosen of the Winnipeg Blue Bombers. The players facilitated sessions throughout the week and Goosen's message clearly resonated with Desnomie who told Bluebombers.com that he and his wife would be donning No.61's jersey when the Bombers pay a visit to Roughriders country this season. A true act of bravery as Steelworkers from Saskatchewan will know.
USW spokesman have already begun to deliver sessions throughout the District and the feedback has been extraordinary. Locals interested in booking a session are encouraged to contacted Dayna Sykes at dsykes@usw.ca
To read the full story of Brother Rob Desnomie and Matthias Goosen visit: https://www.bluebombers.com/2018/04/17/goossen-leaving-lasting-impression-community/
---