BARGAINING UPDATES 2016-2017
---
 
Bargaining Update August 4, 2017
To the Membership,
Thank You.
Without your support over the last 11 months, the bargaining committee would not have been able to achieve the mandate that we had been given.  No Concessions.  Together, we protected ALL of our existing language, and improved on many other articles.
Our language has always been progressive so we have made changes to ensure there is gender neutrality, included diversification goals and consideration for Indigenous Persons.
We changed the vacation scheduling around to eliminate the dead time in April, and we now have actual paid vacation time.  We have improved health and safety language and improved on insurance benefits.
We ensured that our copper bonus stayed in place with no cap, and ensured that when the Company makes money, we continue to increase our pension.  The Copper Bonus has put over 30 dollars on our pension over the last 15 years, and we made sure it would still keep paying.
We have built new rules around contracting out, to build on and protect the language that already exists.
Most importantly, we had a mandate to keep our existing language, and not accept any of the Company's concessions.  That's exactly what happened.
With this in mind, our mine continues to lead the industry in wages, pensions, benefits and long term employment.  We are very happy with what we have achieved, and as a bargaining committee, we have unanimously recommended the memorandum of agreement.
The voting meetings will take place in Logan Lake at the Curling Rink on
Tuesday  August 08th, and Wednesday August 09th at 7:15am, 8:15am, 5:45pm, 7:15pm and 8:15pm, with a 1:00pm meeting at the Kamloops Union Office both days.
You can vote at the Union Hall as well, both days, from 8:00am to 4:00pm.
You can also pick up an information package and vote at the Kamloops Union office between 8am and 4pm Tuesday and Wednesday.
It's up to you next.  Ask questions at one of the twelve meetings in Logan Lake or Kamloops, then you will have a chance to vote.
You can download an electronic copy of the memorandum in the link below, or pick up a paper copy at the meeting,
In Solidarity,
Kyle Wolff
President, USW Local 7619
---
Bargaining Update July 25, 2017
To the Membership,
Following the 99.8% Strike Vote on Sunday, July 16th, the Union did not receive any response from the Company.
The Union then sent a request to resume bargaining to Mr. Ready and Ms. Bell on Friday, July 21st.
The Parties have agreed to get back to the table on Thursday, July 27th, with the goal of negotiating a fair and reasonable collective agreement to ensure the long term employment of Highland Valley Copper Bargaining Unit Employees.
We can't express enough thanks for the incredible support the membership has shown through these trying times.  With your solidarity, you have truly proven that when a memberships stands together, it cannot be broken.
In Solidarity,
United Steelworker Local 7619 Bargaining Committee
---
Bargaining Update July 16, 2017
To the Membership,
First off, it was incredible to see the huge outpouring of support for your bargaining committee.  With our local communities on fire, people on prime time vacation and the relatively short notice, 892 Steelworkers came out to vote.  One spoiled and one no vote, that means 890 of you voted YES.
The result?
99.8 % 
Thank you for sending a strong and clear message to HVC, and giving your bargaining committee the support we need moving forward.
In Solidarity,
United Steelworkers Local 7619 Bargaining Committee
---
Bargaining Updates – June 28th, 2017
To the Membership,
Your Union bargaining committee met the Company today, with a clear mandate from the membership.
The Union gave responses to the Company's outstanding non-monetary proposals.
The Union revised our non-monetary package, and gave the Company our monetary proposals.
The Union then gave the Company responses to their monetary proposals.
The Company has requested a week to cost out our monetary package, and the next available dates for Ms. Bell and Mr. Ready were July 11th and 12th.
The Union and the Company will reconvene bargaining on those dates, with the goal of achieving a reasonable and modern contract.
We appreciate your continued support as we continue through this process.
In Solidarity,
Your Union Bargaining Committee
To Sign Up to the Text Alert System, text "safety" to 33733
To Sign Up to the Email system, go to https://usw7619.com/email-updates/
and sign up!
---
Bargaining Updates – May 08th 2017
To the Membership,
Welcome to Spring, 2017, if we can call it that.  The snow pack hasn't been this high in years, and the temperature definitely doesn't feel like spring, but it's amazing to think that last year this time, over 240 houses were lost to fire in Fort Mac.  Feast or famine it seems.
That leads us to Highland Valley Copper.  We have never seen such a disaster at HVC in the whole history of the mine, and nothing seems to be changing.  Every day, I have discussions with employees who are not only frustrated with the way things are being managed but so disappointed there is such a lack of respect for the people who work here.  But watch out, if you talk out of turn, speak out to try to make things better, they will discipline you, fire you or just move you to another department.  All they want is whipping boys and girls to do their dirty work, with no regards on how that affects the working class.
Since Jan 9th and 10th, 2017, when we sat with Mr. Ready and the Company in mediation, the Company and the Union have not met.  Instead, the Company has started a chain of trying to back door our language any way possible.  Things have gone from bad, to worse.  Work that we have always done at HVC has started to become work not normally performed, with the latest being the physical upstream portion of the LL dam, work specifically written into the collective agreement.  Not only is this work historically done by HVC members, the Company dissolved the dam crew last year, did not hire the employees to replace the ones who have retired, and sold off the equipment needed to do the job.  All to claim that there is a lack of manpower and equipment.  It is the worst case of trying to manipulate the collective language that we have seen to date, and they look at you with straight faces and tell you it's within their rights.
This is just the start.  We HAVE the language to deal with issues like this, and we are moving forward with grievances to deal with this problem, but I can't stress enough that without the language in 3.07, they would be able to shave the workforce down to nothing, eliminate almost all the jobs, and replace you with casual or contract workers.  Nothing would be in their way, just the way they want it.
In 1989, the membership took on a fight to create the language that they don't like and the Company would love nothing more than to get rid of it.   The membership went on strike for 106 days to show the Company they meant business.  In 1999, the Company laid off the entire membership, except for 60 members, for 109 days, to try to take the same language away again.  Both times, the membership stood up and fought for their rights.  Even between those fights, the Company has come to the table and tried to take away that language,  and every time we have been successful in keeping it, ensuring that you have job security and that your family is provided for with those benefits, wages, and pensions.
This time, it's even more severe.  Not only do they want to take away our contracting out language, they want to eliminate seniority, choose who gets the next job posting, give apprenticeships to whoever they feel like, bring in casual employees to replace you on vacation (sorry, no more OT), decimate your copper bonus, two tier your pension and have permanent discipline on your file.  On top of all this, they want all the Pit Operations to show up at 7:15 for no extra pay, make it mandatory to work all overtime and kick you out of the Long Term Disability Program after 2 years.
These are all rights that we have fought for, to ensure that you, as a worker, retire with dignity.  That you, as a worker, use seniority to gain the better jobs, the better rate of pay, the better job security.  All things they want to strip away from you.
These are things we do know.  The Company does not care about you or your family, they only care about the bottom line.  Over and over, it's about how much they made, not how much they hurt people to get there.  The Company does not care about your future, only how many more capital projects they can build with our pension money and how much they can show their shareholders they made.  They don't care about how long you work there, only how "good" of an employee you are.
This fight is not over, in reality, it's not even started.  We will not back down, and it seems that they will not either.
With this in mind, we have decided to sit down with the Union Bargaining committee on May 17th and 18th to consider our next steps.  There are so many moving parts, it cannot be drafted into an email, or even be explained in a short conversation.  The history this local has, the contract we have created, and the membership that has stood up to fight time and time again.  It's the story of people standing up to protect their rights and their future, and our story is just beginning.
It's called the Power of Unity.  It's where the word Union comes from and where we are stronger together.  A Union is not made up of those on the top, it is made up of all those who work inside it.  From the top to the bottom, we look out for each other, we protect each other and we stand together.  We are all in.  Many of you, nearly 700, have never seen the strength of a local working together or gone through any type of dispute in the past.  The Company has hired all of you for a reason; they expect all of you to roll over when the times get tough and give up everything when we hit the first wall.  But we know better.  Our strength comes from our diversity, our history, and our comradery.  We work together, play together and grow old together.  When the times get tough, we get tougher.  It's our solidarity that scares them.
Our membership meeting is in Kamloops tomorrow Tuesday, May 09,  the same day as the elections, I can only express that people take one thing into mind, use your right to vote.  We celebrated the 100th anniversary of Vimy Ridge this year, where soldiers from across the world fought and died for our right to have a free and democratic society, yet a massive percentage of people still don't exercise the right to vote.  You can't complain if you don't vote, and if you don't vote, you won't be part of any change.
Expect the next update after we meet with the Committee, but for now, enjoy the sunny weather while it's still around.
In solidarity,
Kyle Wolff
United Steelworker President, Local 7619
---
Bargaining Update – March 2nd, 2017
Hi Everyone,
I want to thank everyone who voiced their thoughts, feelings and concerns to me today, after the text alert that went out last night.  It's extremely disturbing to think that we are intentionally trying to bypass safety just to get an extra load or two in, and it's leading to serious injury.
I want to put this to everyone.  When you get into your car on your way to work, you put your seat belt on, pay attention to the road, obey the stop signs and try not to speed.  For some reason, when we put a hard hat on at HVC, everything changes.  We drive faster, in bigger equipment, in poor weather conditions, with massive consequences.  I don't know why there is an attitude that we are invincible in haul trucks or pickups while on site, because it is only a matter of time before something goes wrong.  When it does, its typically not a minor fender bender.
Which brings us to a bargaining update.  Put plainly, everyone should take a deep breath and schedule their vacation like they would any other year.  A lot of questions of "what if" have been raised, and until the Company wants to get back to the table to try and complete this prolonged bargaining session, that what if is still a reality.  It's never the intention of any Union to bargain the membership out the door, but people should be aware that with the demands the Company has on the table at this time, a labor dispute is a very possible reality.
For now, like we have said before, we are still collecting a paycheck, and now we are scheduling vacations.  I am headed down to Mexico to enjoy the sun with my brother who is getting married near the end of March.  I'm also planning to spend some time over the summer enjoying the beach with my family.  We can't put our lives on hold or live in fear of what may happen; we must prepare for it and be wary of the possibility, but never stop living.   Put it this way, even if a "what if" happened, would you not go on that trip anyways, or would you cancel those plans?  Probably not, so try to look forward to the hot sun and warm beaches.  Let the committee worry about the what if's, its our job.
Things are looking pretty good long term too.  Our good buddy Don has been all over the news, talking about how much money they are making, and where coal, copper and zinc is headed.  In the short term, copper is expected to continue to increase to $3 bucks a pound, nearly $4 American, getting back to and higher than 2011 prices.  We are still pumping out copper into the silo, and all this delay is really starting to turn up the heat on long term plans.  Kinda hard to plan with all this uncertainty eh?
We have our monthly membership meeting coming up on the 14th of March, which, once again, the Company has denied our grievance committee chair and others the ability to attend.  I'm not sure how they can't find one person to replace him so that he can do his job helping all of us, but please lend Jeff the support he needs on the floor.  The Company is making it especially painful for our reps these days, all in a tactic to try and intimidate us.  All it has done for far is piss us all off just a little more than yesterday.
Last words, the whole bargaining committee and I have been extremely impressed by the strength, dedication, solidarity of everyone of you so far.  We can't always worry about those one or two, but when I hear 80-90% are making the right decisions on important items, it makes me smile.  It gives me the faith to keep fighting on your behalf, to ensure that not only that we have a workplace that is safe to work at, but also have a contract and a future that we can be proud of.  Keep up the hard work, we aren't done fighting yet.
In solidarity,
Kyle Wolff
USW 7619 President, Highland Valley Copper Mine
---
USW 7619 Supports Chilean Mine Workers
United Steelworkers Local 7619  Steelworkers support Chilean Miners on Strike!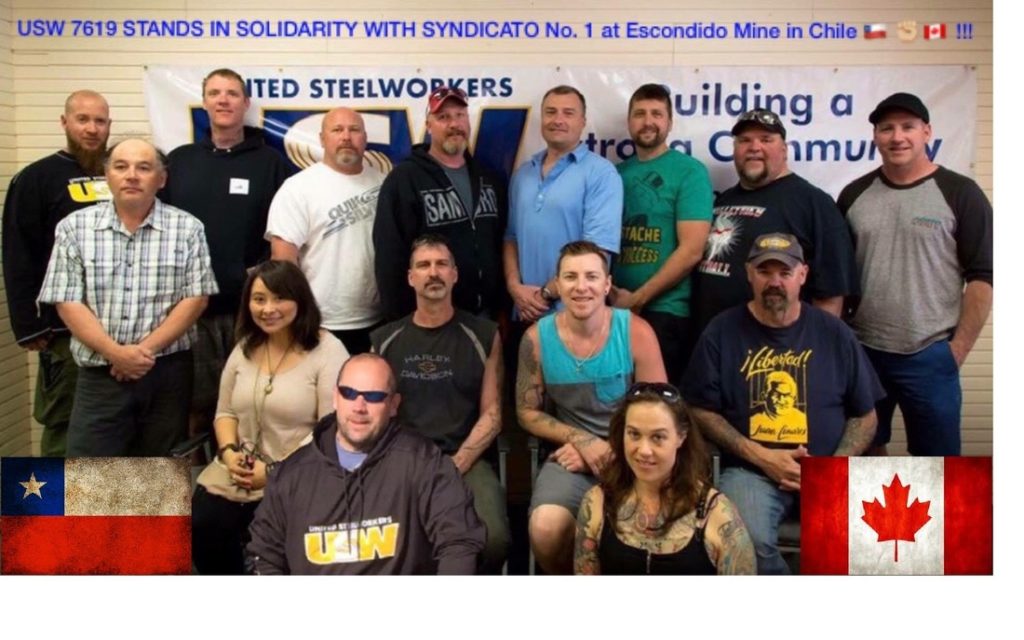 With the announcement of the Union Sindicato N°1 workers going on strike at the Escondida Mine in Chile, United Steelworkers Local 7619, Highland Valley Copper Mine, are standing together to support fellow miners' rights.
These workers are fighting for the same rights that our management continue to demand we give up too, including seniority, two-tier benefit plans, wages and pensions.  It goes to show that there is a common trend among international cooperate mining giants like BHP Billiton and TECK to lower standards, reducing wages and benefits of workers, despite growing profits and record CEO and executive compensations.
In a previous round of bargaining with BHP the union secured for each worker a bonus worth some $49,000, the highest ever in Chile's mining industry.  This time, BHP has come in to ask for major concessions.  The company names may be different and we are in different countries but our stories and experience are no different whether it's Escondida, Chile or Kamloops BC.
Our Chilean sisters and brothers are fighting to protect their rights, and have settled in for the long haul.  Workers have been gearing up for what could be a prolonged strike and are stockpiling rations and supplies to survive the searing sun and bone-chilling nights of Chile's northern high-desert.
"Management wants to step all over the union, it wants to destroy it," said Patricio Tapia, the union president who easily won re-election last year.  Sound familiar?
"We're a lot more organized than the last (strike). We're angry because the company is making a mockery of us, so if we need to be here 30 or 40 days, so be it," said a miner, who preferred not to be named.
"We don't adhere to any political stripe, we're only trying to defend our rights. They can't take away everything we've already won", said Tapia, donning a pair work gloves.
Escondida going offline also puts a huge dent in the world copper market, as they are seen as the #1 copper producer.  This shaves off about 6% of the worlds copper supply, or 1.15 million tonnes of copper.  This most likely means an increase of copper prices as demand starts to grow as the strike takes hold.  This coupled with the strike in Indonesia at the country's biggest copper smelter, which is Freeport's sole domestic off taker of copper concentrate, has added to the company's woes.
Half way around the world, these workers are fighting the same fight against the same type of management and the same type of corporation.  Things don't change if you don't fight for them, and the fights don't change from Country to Country.  It's the same greed, same agenda, and same game plan.
We win when we stick together, whether as workers at HVC or as fellow miners around the world. USW 7619 extends its full solidarity with members of Union Sindicato N°1 at Escondida.
In Solidarity,
United Steelworkers 7619, Highland Valley Copper Employees, Kamloops BC, Canada
 Brothers and sisters striking in Chile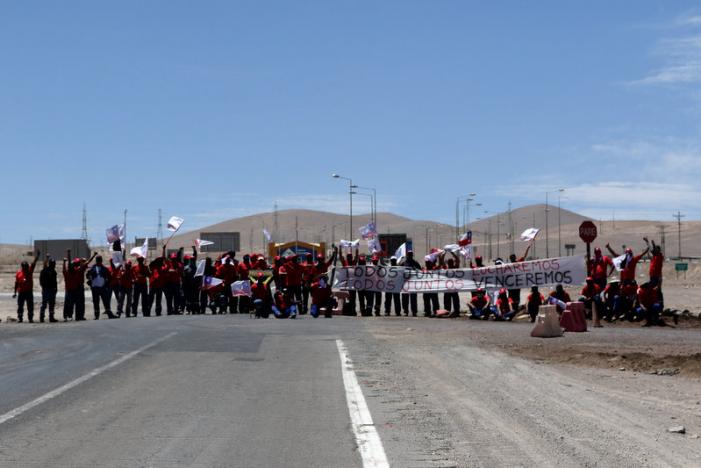 ---
Bargaining Update – Jan 27th, 2017
One Day Longer
It's a simple thought, "One day longer, one day stronger."  It's a slogan, a motto, a chant.  It's a cheer that thousands of Steelworkers have repeated over and over all over the world; when insatiable employers have locked out workers over cut backs, or when Steelworkers went on strike to protect the rights of their fellow Brothers and Sisters health and safety.  It's been chanted on the front lawns of multinational corporations, such as Vale and Rio-Tinto, streets in New York, London and Montreal, and repeated on the steps of businesses all over the world, when Steelworkers have fought for what they believed in.
As we await Mediator Vince Ready's call to return to the bargaining table, I'm asking all of us to think about what one day longer means for us, members of USW 7619.
What is it that we believe in—the dignity of workers.  It's the simple premise of an honest day's pay for an honest day's work and the ability to come home from the job in the same condition we left.  At HVC our jobs are part of the social contract all British Columbians should insist on.  Yes, companies can develop our natural resources, but we expect family supporting jobs for our communities in return.
As a Union, we look to create better schools, healthier communities, tougher laws and more comfortable lives.  We fight for laws to protect the environment – the water, the air, the ground that we all walk on. We look to protect all of us with rules that employers have to follow, to ensure that you get to the future that you planned on looking forward to.
Teck HVC wants to rip up the fundamentals of not only our collective agreement, but that social contract too.  Instead of secure local jobs they want the unrestricted ability to contract out.  They treat our pensions like some gift they want back instead of recognizing that it our deferred wages we negotiated for retirement.  They care about their own bottom line but not ours.
It wasn't always like this.  Once, we didn't have to battle for every ounce of ground we have.  Once, it was a simple promise.  You worked hard, did your job, put in your time, looked forward to a better tomorrow, and retired with dignity.  What happened along the way?
Greed.
We live in the one of the richest countries in the world.  Our CEO makes $5000 per hour; that's $91 a minute – 116 times more an hour than our top wage, and they talk about cut backs.  Our Company makes hundreds of millions of dollars a year, and they want to take away your pension.  Don smiles openly and rubs his hands together, gloating over the tremendous amount of money they will all make, but we won't even see a dime.
This fight is not over finances or benefits.  This fight is about the fundamental rights of our Union, the very same rights our Brothers and Sisters fought for in 1989.  They stood in the cold for 107 days, with no wages, no income, and no benefits.  They stood on the line with signs and with each other, and they chanted those same words heard on the streets of New York:  "One day longer, one day stronger."
They believed in something.  They believed in each other, they believed in a greater idea, a greater goal.  They fought to protect their rights, and they fought to protect their jobs; in turn, now our jobs.  They spent 107 days on the line to achieve the very language that has given all of us the opportunity to work at HVC today.
When they tried to break us, we worked to stick together.  They have tried to outsmart us, outspend us, even outsource us, but they have never been able to outwork us.   They are lacking something that makes them fundamentally different.  They will never have what we have, we have each other.
Whether it's this company or the ones that came before, we are, and always have been stronger together.
Being tough isn't always about a fight, swinging first, or who's bigger, it's about finding the courage to have faith, the guts to have hope, and the power to dream.
Our fighting spirit means we never back down, and never give up.  Whatever it takes, we will do.  We will fight back so we can have a good life, a safe life, a future.  Something we can take pride in.
This is now our fight.  This is now our future.  The decisions we make now will affect us for the rest of our lives.  Our Brothers and Sisters who stood on the line in 89' are all mostly retired, and it's up to all of us to dictate what happens next.
Are you ready to cower, to sit back and let them take away your pension?  Are you going to sit idle and let them contract out your job?  Sit back and watch as a casual employee takes all your overtime and covers your holidays?  Wait around until you get sick so they can fire you after two years?
I'm not.  I will never back down.  I will never let them take those things from you, from me, from us.  I will not bend over and take it as they expect us to do.  I will not break.
I'm going to fight.  With every ounce of energy, every single day, I will fight to ensure that we all have those same rights.
People are scared because they don't know what's next, but what we do know is that if we don't stand up, we know exactly what's next.  Uncertainty can feed fears, but certainty of what could happen should be our real fear.  Back down now, things will only get worse, things will only go further downhill.  Back down now, they win, and they will continue to take forever.  They will take until there is nothing left to give, then they will ask for more.  Greed is a hungry animal.
Uncertainty can be frustrating, but remember our sisters and brother in the Elk Valley took their time, kept up pressure on Teck, negotiated decent wage and benefit increases and turned back any concessions.
Stand beside your Brothers and Sisters, and not behind them.  Resist the rumors, stand together as one group, one body, one Union.  We are stronger than them because we believe in what we are fighting for.  We are fighting for our future.  Together we will always be here one day longer.
In Solidarity,
Kyle Wolff
United Steel Workers, Local 7619
---
Bargaining Update – Jan 10th, 2017
The Union met with the Company over the last two days, in an attempt to move the Company off of their position in gutting the Collective Agreement.  Specifically we talked about Article 3.07 and the Letters of Understanding that pertain to Contracting Out in the CBA.  The Company's position over the last few days has not changed; they seek to eliminate all contracting out provisions in the Collective Agreement.  Our position is clear, we have fought for 25 years to ensure that employees of Local 7619 have opportunities to work, train, and to prosper through our Collective Agreement.  We carefully explained to the Company our position, and the position of third parties who have ruled and decided in favor of the Union.  Our position is clear, members of our local union will continue to work and to have opportunities at all times, rather than giving away those opportunities and work to a contractor.
Mediator Ready has adjourned the talks, and will advise the parties on when talks will resume.
We have scheduled the postponed membership meetings for this Thursday, Jan 12th, at the regular times at the Kamloops Union Hall.  Please attend, and we can discuss more.
Remember,
Solidarity
Lives
On
With USW
Your Bargaining Committee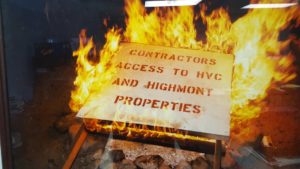 —   Bargaining Heats Up in 1989 – Remember what was fought for.  —
---
Bargaining Update – Dec 19th, 2016
It's been a very busy few days, as we have gone through a day of facilitation with Vince regarding 3.07 and resolved the issue around 10.15 today.
The facilitation was held with Mr. Ready on Friday of last week.  There was some very good conversation that the Union had with Mr. Ready regarding many of the current issues we have at HVC these days.  During this discussion, the Union made the decision to withdraw the P&H Shovel build grievance, as we had already made many gains recapturing work prior to the start of that particular job.  We will now be tasked to re-evaluate the 21 remaining outstanding 30 day notice violations, and ask Vince to come facilitate those which we choose to proceed with, in the New Year.
Regarding the 10.15 arbitration, the Parties engaged Arbitrator Mark Brown to try and resolve the issue prior to a formal hearing.  The Parties spent all day Monday working with Mr. Brown and were successful in resolving the dispute, and coming to a resolution.  As such, the Union will be advising the membership of the agreed upon changes which formed a new Letter of Understanding.  Overall, many of the issues the Union had outstanding were dealt with, which also resolves a separate arbitration that was scheduled in May of next year. (I.E the MSU 2's training).
Over the weekend, there were some serious discussions about bargaining.  The Parties have now agreed to engage Vince Ready starting January 9th, 2017.
The Bargaining Committee will be and has always kept your interest as their highest priority, so please relax, enjoy your holidays, and stay tuned for what happens next.  Trust your committee, and trust your union leadership.
Merry Christmas, all the best to you and your family, and stay safe.
In Solidarity,
Kyle Wolff
President, USW Local 7619
---
Bargaining Update Dec 8th, 2016
To the Membership,
It's been a hectic week, as we are preparing for two very large policy arbitrations.  One, where the Company unilaterally removed an entire line of progression from over half the mine site and ignored seniority and training rules, the 10.15 Mill Equipment Operator Grievance, and the P&H Shovel Build facilitation, where the Company failed to notify the Union of work as early as possible, to allow the committees to try and recapture work as per our language in 3.07.
Both issues drive to the heart of the problems at HVC, an ignorance of historical reference and choosing to not follow language because they don't like it.  We all live in Canada, and have to abide by the rules that we have signed up for.  We cannot steal, not pay bills, or cheat the system, and that concept does not change because you start working at a new job.
Last weekend, both the Elkview and Fording River Locals agreed to use Vince Ready to assist with mediation.  They were successful in signing memorandums of agreement early Sunday morning Dec 4th.
Elkview has ratified their memorandum of agreement by a 78.9% vote in favor.  Fording River's voting results should be in by the end of the week.
It was also agreed between the parties that when we get to a point of mediation, Vince would be used instead of a Labor Board mediator.  Vince has extensive knowledge and expertise, both with Teck and HVC in the past.  Further clarification will be provided at the membership meeting on Tuesday.
We have sent the Company dates for Jan 4th and 5th to reconvene bargaining, to deal with the remaining non-monetary proposals.
We have also had great feedback on the group harassment complaint, as more than three quarters of the employees have signed their name stating that they do not want the Company sending unsolicited propaganda to their homes, nor forcing them to hear it in the workplace under the threat of discipline.  Work should not have to be taken home with you, as you have elected a bargaining committee to deal with these issues.  The Company has had little response, other than tearing down the signup sheets to prevent you from exercising your right to file a complaint.  Please see a steward or a bargaining committee member if you wish to have your voice heard.
The next Union Membership meeting will be held Tuesday, Dec 13th in Kamloops at 770 Victoria Street at 9:30am, 6:30pm, 9:15pm.
For now, enjoy the holidays.  It's a time to celebrate good times with your family, friends, and co-workers.  Don't play to hard, don't drink and drive, and we will see everyone in the New Year.
Merry Christmas from your Executive and Bargaining Committee!
Kyle Wolff
USW 7619 President
---
Bargaining Updates – November 30th
To The Membership,
Respect.
Seems like a simple request, or a simple idea.  It's not much to ask, not much to provide, doesn't take any money, or real effort to do.  In my opinion, it's what the leadership at HVC lacks.  They don't respect anything, anyone, or any process, now including bargaining.
In the next few days, you will receive a letter from HVC at your home address – or most likely already have.  In it, the Company whines and complains about the poor decisions they have made in their business/mine plan, and asks you directly to give up all your hard earned benefits and language to acquire more "additional savings".  We have been very cautious to allow people to engage in the process if they wanted to, and have never forced anyone to read, subscribe or do anything they didn't want to. It should always be your choice. To send a letter like this to your house, to your family, and in it claim that they are looking out for those very same people, is downright terrible.  Then to force you to attend something under the direct threat of discipline… if they have to force you to listen, they have already lost.  All this because we have a mine manager that has decided that money in his pocket is more important than your child's post-high school education, paying for critical medication, your retirement, your mental health, or even the future of all employees at HVC.
This, at a time where the Company is making record profits.  Yet, we are still pumping 40% of our copper down the tails line for a week, and maintaining equipment so poorly that the downtime is now a daily occurrence and at record highs.  We have gone from preventative maintenance, to emergency call out teams, wrapping slicker jackets around pipes until they fail completely.  The hard reality at HVC is that we have never been in such disrepair, yet the blindfolds just get thicker.
So here is the ultimate truth: The Company has planned for all this to happen, right down to the amount of people who are currently working at HVC.  Over the last 3 years, we have cut over 200 jobs, putting more stress on each employee, ensuring they are overworked; all in a long term plan to get the language they are proposing right now.
It all comes back to respect.  They do not respect you, or the work you do.  They do not respect the effort that we have all put into trying to maintain a plant that has been slowly and literally imploding (Dome) from the "cost savings" that have been initiated.  They do not respect the historical work we have done, or the collective language that we live under.  Most recently, we have found out that after collapsing the conveyor crew, which was a direct and spiteful attack on those employees for refusing overtime, they have had a contractor doing those very same checks.  When the Company was questioned on it, they answered – we (Union) have never done that work- an outright lie.
This latest letter, which is unprecedented at HVC, calls into question the Company's true intent at the bargaining table.  We can all see that they already think they have the language they have proposed, as we see more of our regular work disappear to contractors, and we move more grievances to arbitration.  They have already made moves to hire non-union contractors and put them on top of the dam, work specifically outlined as work performed by HVC employees, and regularly do not follow any collective language they believe they have already secured during the bargaining process.  They have made no attempt to hire employees in any work group, and have fallen back to overtime to cover the loss of those employees.  Some areas have lost 6-10 tradespersons, and we are now contracting out that work due to lack of manpower.  Then they have the gall to say "no work will be lost due to contracting out with the new proposal".  How can you claim that, and in the same breath contract out huge breadths of our own jobs, which should have been done by Unionized HVC employees.
The remaining proposals the Company has left on the table have not been discussed by either party in any great detail, as they will affect the entire future of your employment at HVC.  They are extremely complicated, and at the moment, they are still exactly what they were in the beginning; proposals. Pieces of paper which have no meaning until they are agreed upon, or removed from the table.  The Company intends to discuss those proposals with you at these meetings in the near future, and have made it mandatory for you to attend, under threat of discipline.  We signed up for it as a bargaining team member, it's not fair for you to be forced to listen to it.
The Company now intends to bypass the bargaining committee, and bargain directly with each of you.
Lack of respect for even bargaining.
To me and the Union Bargaining Committee, the Company is now desperately trying to convince each and every one of you that this is all a good idea.  That a lack of seniority, permanent discipline, the ability to hire apprentices off the street, contracting out at will, casual employees, and picked job postings, will somehow improve your working conditions at HVC?  No one can predict the future of the mine, so stop preaching it, you don't have a crystal ball.
We have come up with a list of questions that I would like each and every one of you to ask in those meetings, to ensure you have the whole story.  If they want to have a small group discussion with each employee to discuss the bargaining proposals, you might as well be armed with questions and answers that they will once again lie to you about.  But, in order to keep the Company on their toes, and not let them prepare their answers, the Bargaining Team will have copies upon request, so that you can bring them with you to your scheduled Power Hour.
In the meantime, please feel free to email Greg Brower greg.brouwer@teck.com with any and all questions that you may have, as he has asked for you to do so.  I know that several people already have, and I think it's a great idea.
Finally, please, take the high road, and stay calm. They want you to react. It's better to be informed, and have the ability to call out the BS when they tell you. It's not often you're going to have a chance to see the man in person!
Don't worry, I'm sure you will have a ton of questions for him.
Sorry for the long post, lots to say.
In solidarity,
Kyle Wolff
President, Local 7619
Working hard to Bargain you, your family and your future, a fair and reasonable contract.
---
Bargaining Update – Nov 2nd
To All You Working Folk,
First off, I want to thank members for showing their support. Through your kind words, phone calls, wearing swag, or not giving into the Company's bullying tactics, every day you show the resolve of our union, and our commitment to a fair, respectful collective agreement.  Throwing away your bargaining flags and cutting them off trucks is not only disrespectful, it was destroying your personal property.  Responding in kind may seem tempting— please continue to take the high road.
To be very clear, we are still a long ways from completing negotiations. The Company had four months to start bargaining prior to Sept 30th, they decided to wait until the end of August to bring their 57 proposals to the table, a total of over 220 pages of documents.  Now they are in a rush to take all your rights away, and have applied to the Labour Board for mediation.
In response, the Union advised the Labour Board:
"United Steelworkers believes this application is premature and should not be granted as the parties have not finished negotiations for non-monetary issues, and the outstanding issues that the employer has listed are proposals in the employers non-monetary and monetary proposals that the parties have not had any discussion or negotiation on.  The Parties have met on the dates as outlined by the employer and have signed off on a significant number of proposals"
The Union has proposed two extra bargaining dates for Nov 16th and 17th, which have been confirmed.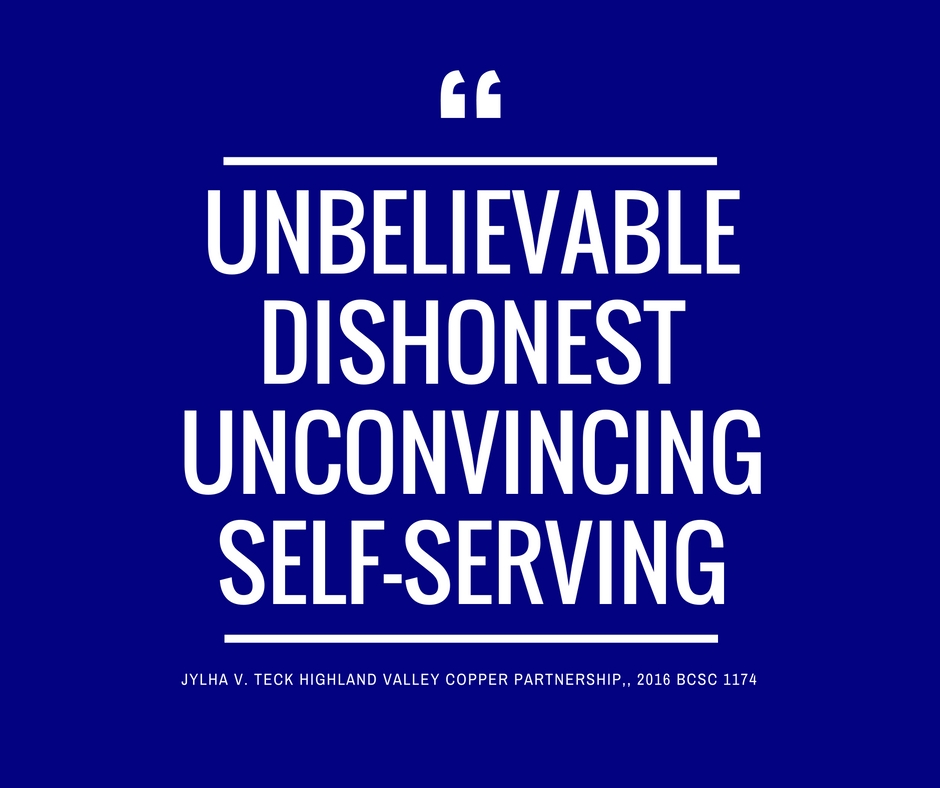 Last week you also saw HVC management offer local media a comment on the quarterly report.  They didn't do the same last year; they didn't do the same last quarter.  Why now? Because we're bargaining.  Veiled threats of tough times are not a new threat.  We've heard it all before.  From Lornex to Cominco, to Teck; they always claim they're financially challenged when it's time to bargain.  But when Steelworkers stick together we've always made progress.
Let's remember, this is from a HVC management team whose evidence BC Supreme Court Justice Groves referred to earlier this year as "unbelievable," "dishonest," "unconvincing," and "self-serving."[i]  In fact, the books show Teck is making money and specifically making money at HVC.  Copper Prices may be down from all-time highs, but they still deliver healthy profits. This round of bargaining isn't about tough financial times, it's about a management that wants to reduce your rights on the job, increase contracting out and not share the profits you've helped generate.
As a final comment, if this management team has done such a bang up job running the mine site to date, then why would you ever "plan" your mine site future to take away benefits, rights and language from your employees?  Only the worst type of management leverages their workforce to ensure they make ends meet, rather than planning to ride out the low spots by not mining out your best ore body prematurely.
We will have the Nov 15th membership meeting in Logan Lake, which we hope everyone who is able will attend.  It will be at the Logan Lake Fire Hall at 8:30am – 6:00pm and 8:30pm- with parking available in the mall parking lot. This is a good time to discuss, ask questions, and get answers to all those burning questions.
Stay calm, stay informed, answer rumors with facts, and let's support each other.
In Solidarity,
Kyle Wolff, USW 7619 President
—————————————–
[i] Jylha v. Teck Highland Valley Copper Partnership,, 2016 BCSC 1174
---
Bargaining Update – Oct 27th, 2016
10/27/2016
Well, the bargaining table this week was full of interesting conversations, some comical moments, a little bit of frustration, and also some resolve.
We have been able to successfully conclude several more items, either through withdraws or them being signed off, and are now down to 13 Company non-monetary issues.  Several of our own items are still left to be dealt, which we will continue to pursue.
The Company did issue their monetary package, but we have not discussed it or even looked at it, as we have not dealt with their non-monetary concessions.
This is a good time to talk about misdirection, manipulation and cost reductions.  To make it crystal clear to everyone, cost reduction = concession.  Competitive package = concession.  Additional opportunities to safely reduce our cost = concession.
We find it ironic after a great 3rd quarter result, which we have all contributed too, that our glorious leader released another internal update to ask you to cut even more.  They post hundreds of millions of dollars in profit, and they want more from all of your pockets.  Will it ever be enough?  Poor Shareholders!!
Your bargaining team will be back on the property next week, and we will continue to provide weekly updates as we progress through this process.
We have two scheduled arbitration's in December that we have to prepare for.  As well, the November membership meeting will be held on Nov 15th, location yet to be announced.
We have weathered this storm many, many times before, and have seen managers come and go like the tide.  One thing that has never changed, is that the membership has always remained strong and survived.
Stay informed, stay united, stick together, don't listen to the rumors, and watch for the next Union update.
In Solidarity,
Kyle Wolff,
President of Local 7619
---
Bargaining Update – Oct 25th, 2016
10/25/2016
BARGAINING NEWS AND UPDATES 2016
The Union and Company were scheduled to meet with Mr. Vince Ready on Thursday October 20/16 to deal with contracting out issues as per Article 3.07 of the collective agreement. Unfortunately, Mr. Ready had to cancel the scheduled meeting due to his becoming ill.
The parties are in the process of scheduling a new day and have tentatively agreed to December 16/16.
Due to this unforeseen event, the Union and Company resumed negotiations for the day.
A number of issues were resolved and signed off between the parties, and the Company withdrew a few of their proposals.
We resumed negotiations on Monday October 24th and resolved several more issues, and the Company withdrew a few more of their proposals.  The Bargaining Committees are scheduled to bargain Tuesday, Wednesday and Thursday of this week.
After the completion of this weeks bargaining session, we will send out an more complete update to keep all the membership up to date.
Thank you to all the members who attended the membership meetings on Tuesday Oct 18th.
Kyle Wolff
President of USW 7619
---
Special Bargaining Membership Meetings – Oct 18, 2016
10/17/2016
To the Membership,
We are holding our monthly membership meetings at our regular times tomorrow, Oct 18th, at 9:30AM, 6:30PM and 9:15PM.
At these times, we will be able to inform the membership of what is currently happening with bargaining, the investigations on the committee, an update regarding Fording and Elkview ratification votes,  dispel any rumors, and explain what the plan is going forward.
If you wish to have the complete story, one that is not redacted and have those honest discussions we all wish we could have, this is the opportunity to do so.
Don't complain that you don't know what's going on if you don't make it.  Information is our best weapon moving forward.
In solidarity,
Kyle Wolff
President, Local 7619
---
October 06, 2016
PRESS RELEASE
Teck Corporation Threatens Punitive Action Against United Steelworkers for Support of Kamloops Food Bank
KAMLOOPS, BC, Oct. 6, 2016 /CNW/ – United Steelworkers (USW) Local 7619 is calling out the management of Teck Resources in response to its mean-spirited threat to discipline USW members for stepping up on behalf of their community.
USW Local 7619 members are being threatened with discipline by Teck Highland Valley management for using union book-off time to assist the Kamloops food bank.
"This bullying may be effective in threatening workers in developing countries where Teck operates copper mines, but it won't work here. Teck may believe this is the way big global corporations are supposed to act, but it's fundamentally un-Canadian," said USW Local 7619 President Kyle Wolff.
Teck bears no financial costs for any hours the union schedules its members for union service and business. Teck's threat to punish Steelworkers for volunteering for the Kamloops food bank on union time is an attempt by the company to intimidate USW members as bargaining between the two parties gets underway.
"If Teck believes our members' resolve for a fair contract will be broken by their threats, they are out of touch with their workforce and out of touch with our community," Wolff added.
USW Area Supervisor Randy Gatzka, leading collective bargaining with Teck, said, "In my 30 years of representing workers, I have never seen an employer sink so low as to threaten discipline of workers for supporting their local food bank."
"Whether it's through our contributions to local food banks, the United Way or through our Steelworkers Humanity Fund, our commitment to our neighbours is steadfast and unwavering," noted Wolff. "It's sad we can't say the same for Teck Corporation."
The local challenged Teck Corporation management to meet and exceed their hours of service to local food banks. In addition to above-mentioned community groups, USW Local 7619 supports The Kamloops and Logan Lake WHY, Boys and Girls, Big Brothers and Sisters, CMHA, New Life Mission, Family Tree, ASK Wellness Centre, Merritt Fireside, Logan Lake Seniors Centre, Kamloops and Logan Lake Literary, Soups On in Ashcroft, MADD, Royal Canadians Veterans Society, BC Cancer Foundation, Royal Inland Hospital, as well as numerous local charities, fundraisers and community groups from the Logan Lake, Ashcroft, Merritt and Kamloops areas.
To learn of opportunities to join USW members in community service please visit www.usw7619.com.
SOURCE United Steelworkers (USW)
For further information:
Kyle Wolff, USW Local 7619 President, 250-828-2860; Randy Gatzka, USW Area Supervisor, 604-683-1117
This information is being distributed to you by / Cette information vous est transmise par : United Steelworkers (USW)
Suite 800, 234 Eglinton Ave. E., Toronto, ON, M4P 1K7, Canada
http://www.usw.ca
---
SEPT 20, 2016
To The Membership,
It's been a slow process so far.
Out of the 57 non-monetary proposals the Company has put on the table, many which have gutted our contract, we have been able to resolve 18 minor issues.
The major concessions still remain on the table, and we don't expect to see a quick resolve to things like Casual Labor and Contracting Out Language.  We are going to have to methodically work through each piece, which most likely means working beyond the end of the contract, possibly well into next year.
We have what is called a continuation clause in our contract, which means as long as each party is still engaged in meaningful bargaining in an attempt to conclude a contract, the contract remains in full force and effect.  This means your going to come to work on Oct 1st and still collect a pay check, have Thanksgiving with your family and take the holiday Monday off, and plan your Christmas holidays.
This is not a typical contract, being one of the best in Canada, and this is not a typical bargaining session, with this amount of distasteful concessions they have asked for.  We are going to protect this language we have fought for over 30 years, and getting these items off the table is not going to happen over night.
The requests the Company have put on the table are ridiculous, over zealous and extremely unreasonable due to their economic stability.  We have not taken a concession in 30 years and we are not going to take one now.
Talks will continue.  The hard bargaining is beginning.  We need your patience and cooperation as we progress, and we will make every attempt to keep the membership abreast of any new information.
Don't give this Company an inch.
In Solidarity,
Kyle Wolff
President, USW 7619
---
SEPT 19, 2016
Bargaining updates from District 3 USW for the Teck Chain USW Locals.
To download a PDF copy, CLICK HERE.